Dark Lord is an MVP that respawns in Bossnia [Lv:2] every 10 minutes after its death.
Card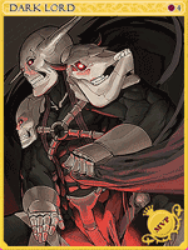 Item ID:
4168
Name: Dark Lord Card
 Description: 
Add a 10% chance of auto casting Meteor Storm [Lv:5] on an enemy when the user receives Physical Damage. 
[+ Dark Illusion Card] 

Maximum HP and SP + 20%. 
Reduce cast time by an additional 10%.
 Compounded On: Footgear
 Drop Rate: 10.00%
Community content is available under
CC-BY-SA
unless otherwise noted.