Detardeurus (Alt: Detale) is dragon-type MvP that respawns every 10 mins in Bossnia [Lv:3].
It is hunted to earn points as part of a Guardian's training.
It also benefits Collectors because of its

Fire Dragon Scale (100.00%) which is a Collector Quest Item.
Card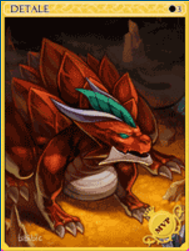 Item ID: 4386
Name: Detardeurus Card
Description:
MDEF -20
+70% immunity against Frozen status.
Adds a chance of autocasting Land Protector [Lv:1] each time the wearer is magically attacked.
Compounded On: Armor
Drop Rate: 10.00%