Ghostring is a mini boss that is respawned in Bossnia [Lv:2,3,4] every 10 minutes.
Card
Main article:
Ghostring Card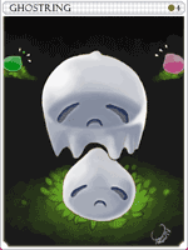 Item ID:
4047
Name: Ghostring Card
 Description: 
Enchant armor with the Ghost element. 
Reduce HP Recovery by 25% 
Compounded On: Armor
 Drop Rate: 10.00%
Community content is available under
CC-BY-SA
unless otherwise noted.