Gryphon is a mini boss that is known for its

Talon of Griffon (100.00%) that is used as a Collector Quest Item and Alexa's Daily Quest item - Tier 2.
His highest spawn is in floors 83 and 86 of the Endless Tower (10 count in each floor). Players can use Ashes of Darkness to instantly teleport to floor 75.
The can also be found in cmd_fild08, ra_fild01, and um_fild03.
Card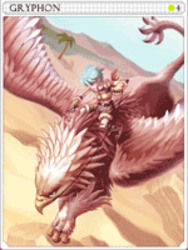 Item ID:
4163
Name: Gryphon Card
 Description: 
Flee +2 
CRIT +7 
[Swordman class] 

Adds the chance of auto casting Bowling Bash [Lv:5] on enemy when attacking.
 Compounded On: Weapon
 Drop Rate: 10.00%
Community content is available under
CC-BY-SA
unless otherwise noted.