Hero Set is a path set of the Hero Path. Components can be made at the Hero Keeper.
Hero Set is PvP/WoE-oriented, and focuses on demi-human resistance. The complete set gives 35% demi-human resistance, but note that demi-human resistance is capped at 85%.
The step-up of the Hero Set is the Evolved Hero Set.
Like all path headgears, Collector headgears can be obtained by completing Storyline quests:
[ Shield + Garment + Shoes ]
Reduces damage from Demi-Human monster by 8%.
Reduce long range damage by 10%.
[ Hit ] 20% chance casting Heal [Lv:10].
Heroic Helm of Dominion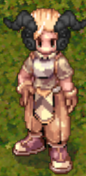 Class: Headgear Location: Upper
+20 All stats except VIT.
Reduces damage from Demi-Human monsters by 10%.
ATK +6%
MATK +6%
MDEF +5
DEF +5
Heroic Aura of Dominion
Class: Headgear Location: Middle
+10 Stats except VIT.
FLEE +25
MDEF +2
DEF +3
Heroic Wings of Dominion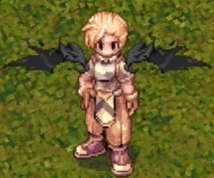 Class: Headgear
Location: Lower
+15 Stats except VIT.
+30% Movement Speed
MDEF +5
DEF +5
[ Hit ] +10% chance casting Raging Palm Strike [Lv:5]
Heroic Armor of Dominion
Class: Armor
Location: Body
+30 to all Stats except VIT.
Reduces damage from Demi-Human monsters by 7%.
Max HP +10%
Max SP +10%
ATK +6%
MATK +6%
MDEF +10
DEF +10
Heroic Shield of Dominion
Class: Armor
Location: Shield
+20 to all Stats except VIT.
Reduces damage from Demi-Human monsters by 7%.
Reduce magic damage by 10%.
Reflect: Melee +5%
MDEF +5
DEF +7
Heroic Manteau of Dominion
Class: Armor
Location: Garment
+10 to all Stats except VIT.
Reduces damage from Demi-Human monsters by 2%.
Reduce long range damage by 10%.
Reflect: Range + 5%
MDEF + 10
DEF +5
Heroic Boots of Dominion
Class: Armor
Location: Shoes
+15 to all Stats except VIT..
Reduces damage from Demi-Human monsters by 1%.
Max HP + 10%
Max SP + 10%
Permanent Endure.
Reflect: Magic + 5%
+35% Movement Speed
MDEF + 10
DEF +5
Glory of a Hero
Class: Headgear
Location: Lower
+17 Stats except VIT.
+7% damage to all races.
(Doesn't stack with Turtle General, etc.)
-70% SOFT DEF
+40% Movement Speed
MDEF +7
DEF +5
[ Hit ] +10% chance casting Raging Palm Strike [Lv:5]
Spirit of a Hero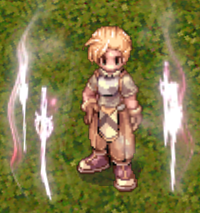 Class: Headgear
Location: Middle
+15 Stats except VIT.
FLEE +50
MDEF +2
DEF +3
[ Exorcist ]
[ Hit ] 5% chance casting King's Grace [Lv:1]
-5% After-Cast Delay.
Ignores defense of all monsters.
DEF + 10
MDEF + 10
Pride of a Hero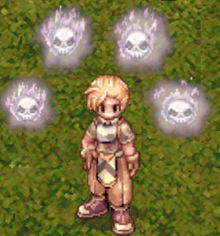 Class: Headgear
Location: Lower
+20 Stats except VIT.
+10% damage to all races. (Doesn't stack with Turtle General, etc.)
-80% SOFT DEF
+40% Movement Speed
MDEF +7
DEF +5
[ Hit ] 10% chance casting Raging Palm Strike [Lv:5]
Grandeur of a Hero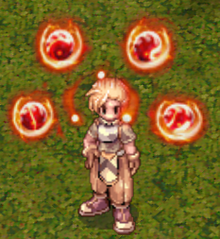 Class: Headgear
Location: Lower
+20 Stats except VIT
+15% damage on all monsters. (Doesn't stack with Turtle General, etc.)
-80% SOFT DEF
+40% Movement Speed
MDEF +10
DEF +5
[ Hit ] 15% chance casting Raging Palm Strike [Lv:5]