Kiel D-01 is a formless MVP in Bossnia [Lv:3].
He drops

Pocket Watch (100.00%) [ID:7513] which is a Collector Quest Item and an Alexa's Daily Quest item.
His card is highly hunted because it reduces after-cast delay (not to be confused with casting time which is from


Berzebub Card).
Card
Main article:

Kiel D-01 Card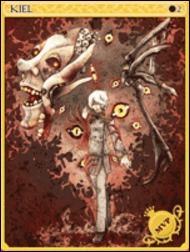 Item ID: 4403
Name: Kiel-D-01 Card
Description: "Reduces after cast delay of all skills by 25%."
Compounded On: Headgear
Drop Rate: 10.00%
Community content is available under
CC-BY-SA
unless otherwise noted.