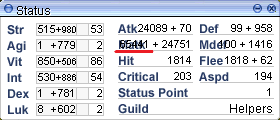 MATK is affected by elements. It has two sides: A (Left) + B (Right)
Left side: Status MATK (INT points)
Right side: Weapon + equips MATK
Limit: Each side can only handle 65,536 MATK. If you add more INT/MATK, it will reset, and your damage will be low.
Warning: DON'T use the Healer. She will buff you with INT, then your MATK could reset. Use Yggdrasil Berry for healing (from Baphomet Jr. @warp prt_maze03)
Tips:
Wear all cards and equips
Reset Stats (Reset Girl @jump 213 190)
Keep adding 50 INT at a time and look at your MATK while you do it. Keep note at how many INT points does your MATK reset.
Q) I can't see the left MATK. What should I do?
Keep adding some MATK. Look at the number of digits at the left side. The moment it becomes smaller than 5 numbers is when you know you reached the limit.
Good MATK Equips for Starters
Community content is available under
CC-BY-SA
unless otherwise noted.