(Not to be confused with Maya, the MVP)
Maya Purple is a mini boss that is highly hunted in Ant Hell [Lv:1] (anthell01) for her card which allows users to detect hidden enemies.
In Ant Hell [Lv:1], she respawns every 120-180 minutes (2 to 3 hours) after her death.
Players can use

Bubble Gum to increase the chances of obtaining her card.
Card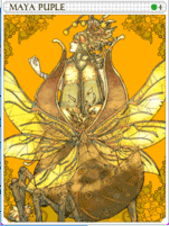 Item ID:
4198
Name: Maya Purple Card
 Description: Enable its user to detect hidden enemies
 Compounded On: Headgear
 Drop Rate: 10.00%
Community content is available under
CC-BY-SA
unless otherwise noted.