Mistress is an MVP that can be found in Bossnia [Lv:2] and Endless Tower [Floor:10].
She is hunted for her Young Twig

(10.00%) which is a Collector Quest Item. Bubble Gum

can increase the chances of obtaining this item.
Card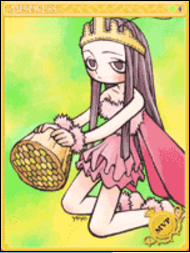 Item ID:
4132
Name: Mistress Card
 Description: Nullify the Gemstone requirement of certain skills (only covers 1 Gemstone) at the cost of increasing SP Consumption by 25% when using skills.
 Compounded On: Headgear
 Drop Rate: 10.00%
Community content is available under
CC-BY-SA
unless otherwise noted.