All monsters, including MvPs and other bosses, are free for all, so kill-stealing is allowed in ExperienceRO.
DISCLAIMER: Always keep empty space in your inventory at all times, especially when you're about to receive an item, and make sure that you are not overweight. The ExperienceRO team will not be held responsible for any losses due to users' own actions. It is players' responsibility to read the Rules and Regulations and the Warnings.
Naght Sieger is a Mini Boss that drops

Turquoise (100.00%) which is a Collector Quest Item.
After the first time completing all 99 floors of the
Endless Tower
, including defeating
Entweihen Crothen
at the rooftop, a character can talk to the Lucid Crystal on the upper-right corner of the rooftop. The first time talking to the crystal would teleport the character back to Alberta.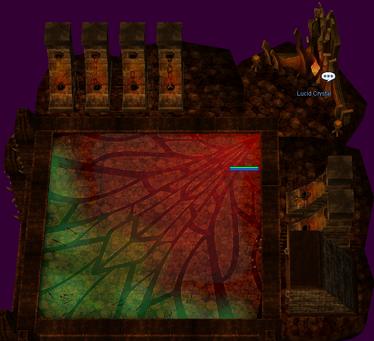 After the 24-hour Endless Tower instance cooldown, the character can do another run of Endless Tower. This time, after clearing the rooftop, talking to the Lucid Crystal would have a voice teleporting you to a strange galactic environment.
If you follow the path, it will lead you to a castle where many monsters will be summoned. After all the waves of monster summons are cleared, the mysterious voice will reveal its identity. That's when we find out that all along, the creature behind the chaos is the one and only... Naght Sieger.
Card
Note: Naght Sieger does not have a card in ExperienceRO as it is a pre-renewal server. However, you may view the renewal card here.
Community content is available under
CC-BY-SA
unless otherwise noted.