m

(Protected "Owl Duke" (‎[edit=sysop] (indefinite) ‎[move=sysop] (indefinite)) [cascading])

 

(No difference)
---
Latest revision as of 08:44, 3 November 2017
Owl Duke is a mini boss that can be found in tha_t05, tha_t06, as well as there being 10 of it in the 84th floor of the Endless Tower.
Its card (10.00%) is usually hunted to be used on Temple Seals.
Card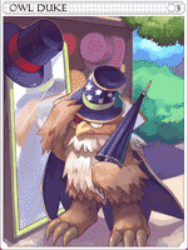 Item ID: 4237
Name: Owl Duke Card
 Description: 
Add a 0.3% chance of auto casting Impositio Manus [Lv:3] on the user when attacking. 
[+ Owl Baron Card] Add a 2% chance of auto casting Lightning Bolt [Lv:5] on an enemy when attacking.
Compounded On: Accessory
 Drop Rate: 10.00%