The Pumpkin Set is a set of upper and lower headgear that can only be obtained during the annual Halloween event. Each headgear costs (10) Halloween Tickets

at Nikolas.
[ Cap + Bag ]
+20% Earth Resist
-55% SOFT DEF
[ Hit ] 3% chance casting Wide Confusion [Lv:1]
Pumpkin Cap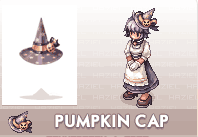 Class: Headgear
Location: Upper
+100 Stats except VIT.
+30% Earth Resist
MDEF +5
DEF +5
Pumpkin Backpack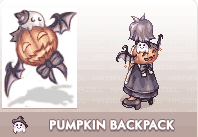 Class: Headgear
Location: Lower
Community content is available under
CC-BY-SA
unless otherwise noted.