Stormy Knight is an MVP that spawns in Bossnia [Lv:1] every 10 minutes.
Its card can be useful at the Forgotten Temple.
Card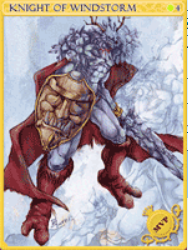 Item ID:
4318
Name: Stormy Knight Card
 Description: 
Add a 2% chance of auto casting Storm Gust [Lv:2] on the enemy when attacking.
Has 20% chance of Freezing an enemy when attacking.
Compounded On: Weapon 
Drop Rate: 10.00%
Community content is available under
CC-BY-SA
unless otherwise noted.