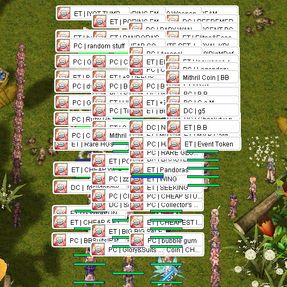 The
Mall
is on the left side of Moonhaven (@go 0). The mall contains NPCs, the
Refine Master
, and the
Vending
area.
The right side of the mall has the Alchemist Dealer, Street Dealer, Ammunition, and many weapon NPCs.
The left side has a Pet Specialist, many headgear NPCs, and other equipment NPCs.
In the middle is the vending area where merchant players sell items in custom currencies. Zeny is not used here.
On the upper-left side is the Refine Master and the De-refiner.
 FAQ
Q) Why can't I buy from vendors? I have enough zeny.
We use custom currencies instead of zeny. You can see the currency that a stall uses on the left side of the store title.
PC: Platinum Coin
ET: Event Token
MC: Mithril Coin
DC: Donation Credit
Q) What do the zeny colors mean on vendor shops?
In zeny-based currencies, different colors indicate different price levels. However, we use multiple custom currencies, so the colors don't really matter.
Right-side NPCs
Alchemist Dealer, Street Dealer, Ammunition, and weapon NPCs.
Left-side NPCs
The left side of the mall has a Pet Specialist, Headgear shops (meant to be costumed), and other equipment stores.
The Pet Specialist sells taming items, food, and accessories for pets. Visit the Pet System page for information on tameable pets.
There are many headgear shops that sell classic RO headgear (upper, middle, lower, and more). The headgears are meant to be turned into costumes at the Costume Maker as they do not suffice as reliable headgear in ExperienceRO (but at least they look cute!).
Equipment
The follow stores sell classic RO equipment, but ExperienceRO's custom equipment are better. As for accessories, players can make custom rings (stat rings) at the Pandora NPC (right side of town).
Community content is available under
CC-BY-SA
unless otherwise noted.