DISCLAIMER: Always keep empty space in your inventory at all times, especially when you're about to receive an item, and make sure that you are not overweight. The ExperienceRO team will not be held responsible for any losses due to users' own actions. It is players' responsibility to read the Rules and Regulations and the Warnings.
The One Set is a path set of The One path. Components can be made at The One Keeper.
The One Set is MvP/PvP/WoE-oriented, and revolves around elemental resistance.
The step-up of The One Set is the Evolved The One Set.
Like all path headgears, The One headgears can be obtained by completing Storyline quests:
[ Shield + Garment + Shoes ]
+50% chance gaining 1% of the physical damage dealt as HP.
[ Hit ] 1% chance casting Comet [Lv:1]
Divine Helm of The One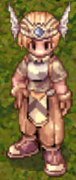 Class: Headgear
Location: Upper
+20 Stats except VIT.
+5% All Elements Resist except Neutral.
ATK +6%
MATK +6%
MDEF +5
DEF +5
Divine Ears of The One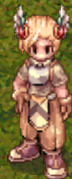 Class: Headgear
Location: Middle
+10 Stats except VIT.
HIT +15
FLEE +15
MDEF +2
DEF +3
Divine Wings of The One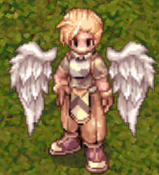 Class: Headgear
Location: Lower
+15 Stats except VIT.
+30% Movement Speed
MDEF +5
DEF +5
Divine Armor of The One
Class: Armor
Location: Body
+30 Stats except VIT.
+70% Holy Resist
Max HP +15%
Max SP +10%
ATK +6%
MATK +6%
MDEF +10
DEF +10
Divine Shield of The One
Class: Armor
Location: Shield
+20 Stats except VIT.
+20% Fire, Water Resist.
+%15 Dark (Shadow) & Undead Resist.
MDEF +5
DEF +7
Divine Manteau of The One
Class: Armor
Location: Garment
+10 Stats except VIT.
+7% All Elements Resist except Neutral.
MDEF +10
DEF +5
Divine Boots of The One
Class: Armor
Location: Shoes
+15 Stats except VIT.
Max HP +10%
Max SP +10%
Permanent Endure
Reflect: Magic +1%
+35% Movement Speed
MDEF +10
DEF +5
Glory of The One
Class: Headgear
Location: Lower
+17 Stats except VIT.
+7% damage to all races (Doesn't stack with Turtle General, etc.)
-70% SOFT DEF
+40% Movement Speed
MDEF +7
DEF +5
Spirit of The One
Class: Heagear
Location: Middle
+15 Stats except VIT.
HIT + 30
FLEE + 30
MDEF +2
DEF +3
[ Exorcist ]
[ Hit ] +5% chance casting King's Grace [Lv:1]
-5% After-Cast Delay
Ignores defense of all monsters
DEF +10
MDEF +10
Pride of The One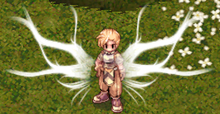 Class: Headgear
Location: Lower
+20 Stats except VIT.
+10% damage to all races (Doesn't stack with Turtle General, etc.)
-80% SOFT DEF
+40% Movement Speed
MDEF +7
DEF+5
Grandeur of The One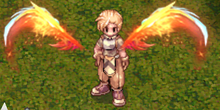 Class: Headgear
Location: Lower
+20 Stats except VIT.
+15% damage to all races. (Doesn't stack with Turtle General, etc.)
-80% SOFT DEF
+40% Movement Speed
MDEF + 10
DEF +5
[ Hit ] 10% chance casting Bowling Bash [Lv:10]